Ruairí's DVD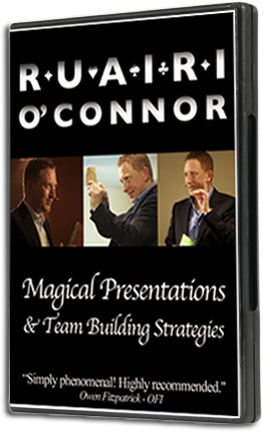 Magical Presentations & Team Building Strategies
From one of Ireland's top magicians, comes an amazing live show from OFI's Online Charisma training Academy. In this fasinating video module Ruairí O'Connor explains how to use the tools of a professional magician to become more charismatic.

Magic is all about performance. It is about learning how to direct and control the audience's attention and create powerful feelings of awe and delight while maintaining a good relationship with them. Magicians see the world in a different way than the rest of us and have a mastery over solving problems in unpredictible ways.

Ruairí will guide you into the world of magic by presenting his hugely popular stand up show 'Magic Of The Mind'. He will then reveal the performance secrets that have helped him perform for celebrities such as Westlife as well as present in Las Vegas. Ruairí will be using practical examples from his stand up show and will walk you step-by-step through one of his routines so you can understand the process behind the Effect.
Please, ensure you provide your address as note to seller when making paypal payment. Thank you.