Corporate Entertainment Magician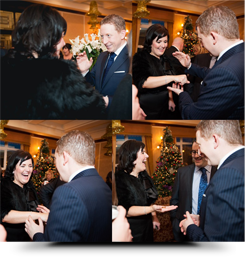 Ruairi has been helping corporate clients with their entertainment and team building requirements for over 18 years.
His informal 'Walkaround' and more theatrical 'After Dinner Standup' shows are an ideal option for corporate event bookers who would like to treat their customers, partners or staff to some mind-blowing, unique and fun entertainment.
Ruairi's Team Building offering 'Team Magic', combines elements of presentation skills training and creativity development within an overall framework of working as a team to achieve your goals. He has been receiving rave reviews, Coca Cola in Carton House, PetroCeltic in The Bushmills Inn and Pfizer in the Gibson Hotel to name a few.
Walkaround
His Walkaround works best at the event reception.  It provides guests with something to focus on, and something to chat about afterwards.  It sets the tone for the evening – exciting and fun.  Customers, partners and staff feel like they've been treated to something really extra special.
After Dinner Standup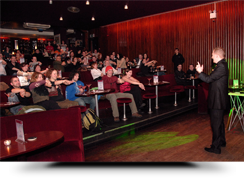 The Standup show is ideal after dinner entertainment where seated guests are drawn together in amazement by award winning magic, comedy and incredible mindreading effects.
Due to Ruairi's warm personality, engaging performing style and ability to adapt his act to suit any performing situation, it is the perfect corporate entertainment choice and any group will enjoy his theatrical presentations. He reaches out and touches the minds of the entire audience showcasing the best effects that a corporate entertainment Magician and Mentalist has to offer.
Team Magic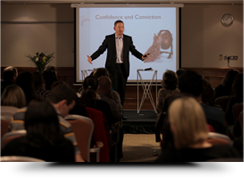 Magic provides the ideal vehicle for a team building breakout session as every participant begins at the same level. The workshop is engaging, educational and more importantly fun!
Learning some of the skills, performance strategies and beliefs of a magician will boost the group's problem solving skills, enable them to connect and engage more effectively as well as present and communicate in a more powerful way.
How it works:
The workshop starts with a fun performance by Ruairi which is based around 'Magic of the Mind'.
After the show he brings the group 'behind the curtain' and shares some useful magical secrets in terms of communication and presentation.
Everyone will then learn and perform an amazing magic effect from Ruairi's show. For a small extra fee per person Ruairi can provide a magical prop which the group can learn to perform and then take away at the end of the session to perform for family and friends!
Teams are formed and each is given a magic prop. Each Team must work creatively as a group and use their problem solving abilities to understand it. They then create an engaging and work related presentation.
Finally, the fun part; they must present and perform it using the skills learned, in front of their peers!